Partner
Title:
INFOR-Italy
Name:
INFOR ELEA
Type:
School/Institute/Educational centre – Adult education
Address:
VIA RIVOIRA DON 24
Zip code:
10060
City:
SAN SECONDO DI PINEROLO
Country:
Italy
Email address:
colomba@selene-consulting.it
Fax:
+390121503249
Phone number:
+390121503241
Website:
http://www.consorzio-infor.it
Description:
INFOR ELEA is a consortium of 250 enterprises officially recognised as a training provider by local public authority Regione Piemonte. It's a merger of two big training companies: INFOR established in 1994 and ELEA founded in 1979 by Olivetti Group. This consortium is made up by a group of both public and private institutional and economic partners included the Faculty of Economics – University of Turin. INFOR ELEA is recognised as a local point of promotion of managerial competence and knowledge, able to link on the one hand the rising trends on management theories and on the other hand the requirements and experiences of entrepreneurs. Frequent contacts with public and private companies have been helping INFOR ELEA to adequate its activities to the national real needs and to anticipate market changes. INFOR ELEA designs realises and evaluates managerial training, lifelong learning training, academic masters, e-learning, apprenticeships training, transnational mobility projects for unemployed, entrepreneurship promotion and study visit for transnational entrepreneurs, employees and unemployed people. It is also officially recognised as job centre by local public authority Regione Piemonte and carries out professional guidance and job promotion to unemployed people. Together with transnational partners, INFOR ELEA is also involved in developing scientific research, skill exchange and international training activities thanks to its previous experiences on the whole managing (from the designing of the proposal to the financial statement reporting) of transnational projects funded by European, National and Local funds. Since 2002 INFOR ELEA has been awarded the certifications of UNI EN ISO 9001 2008 for its project planning and training activities.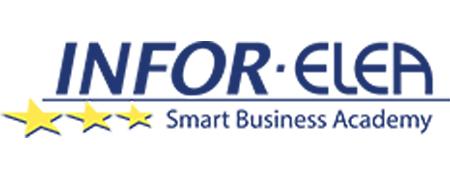 Contacts
Country: Italy
Organisation: INFOR-Italy

Role in organisation:

Training Coordinator

Country: Italy
Organisation: INFOR-Italy

Role in organisation:

President

Country: Italy
Organisation: INFOR-Italy

Role in organisation:

Project Manager

Country: Italy
Organisation: INFOR-Italy

Role in organisation:

Senior Project Manager